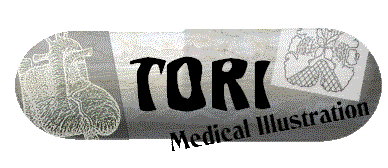 Tori Medical Illustration combines quality artwork with creative minds to give you the best in design and perspective. Tori Illustration can bring out the most intricate details while preserving simplicity. If you are interested in medical illustration for any of your projects, simply email us.
Research proposals, lecture handouts, clipart, web graphics, textbook illustrations, educational materials, fundraisers, and much much more...
Tori Medical Illustration has been responsible for a number of fundraising events for student groups through T-shirt and flyer designs. Physicians for Social Responsibility, Surgery Club, The Robert Berger Pediatrics Club, The West Philly High Health Fairs of '96 and '97, and the Elwood Elementary Health Fair.
Women In Transition of Philadelphia and the Task Force for Battered Women of Ithaca, NY have benefitted from a number of Tori Medical Illustration fundraisers.
Tori medical illustrations have been utilized by a number professors.
COMING SOON!.....Technique of the Month!
One OMM Technique will be featured on this page with Tori illustrations to accompany it. There will be a new technique each month.

Web Author: Dr. E. A. Tori