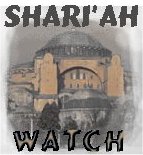 The basic premise of this particular Watch Page, Shari'ah Watch, is that wherever Islamic Law is being implemented it is being aggressively opposed - by governments, journalists, news agencies, and various international human rights organizations. Even when Muslims, choosing their own form of government, choose shari'ah, it will be opposed by those outside, essentially saying, "Stop! We know what's good for you. You are violating your own rights." Also implied in their statements is that they know what is good for humanity and the One Who created humanity does not.
In the US, violent crimes kill more people each than are killed in countries at war. The US has more people in prison than the rest of the world combined. We (speaking as an American) are in no moral position to issue judgment on people who choose shari'ah. And as a Muslim, I feel that the world will not know justice until it knows Islam.
Nonetheless, my opinions mean very little in the grand scheme of things. So, I established Shari'ah Watch. Perhaps someone whose opinion matters will read and see trends which I, and millions of other Muslims see, that wherever Islam is being established in its entirety, it is being opposed.
Where Shari'ah is being Established & Opposed: