"What You Don't Know Can Hurt You" - Sign up for a Free 7 Week TV News E-Class from DajjalSystem.com (1 email/week):
We will not distribute or sell your name or email.
You will receive a confirmatory email before starting the class.
We do not send unsolicited email. Cancel at any time.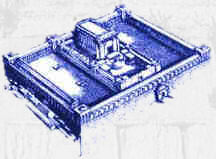 Third Temple Watch
The Messianic movements among Jews and some Christian sects are growing. Follow some of the latest news and analysis regarding Jewish and Christian Zionist attempts to "re-establish" the Temple of Jerusalem and learn what it means to Islam's Holy Sites...
More
Donate Through Islamic Relief
Priorities?
Initial US aid for Tsunami victims $35 million
Bush Inaugural $45 million
Cost for one day of Iraq war $177 million

Actually, US aid was recently increased to $350 million. Which, of course, is much, much better. But let's not lose perspective...that's 2 days of the War in Iraq...2 days.


This Web Page is Biased

Domestic Security Enhancement Act of 2003

The Perfect Enemy

Special Report: Welcome to Amerisraelistan

Coverage of Terror/War

Special Report: Arming for Armageddon